This year we are excited to celebrate Ascertia's 20th anniversary!
The last two decades have been a real journey and when taking the time to look back at our history it's fascinating to see just how much Ascertia, the PKI and eSignature industries have evolved, grown and matured.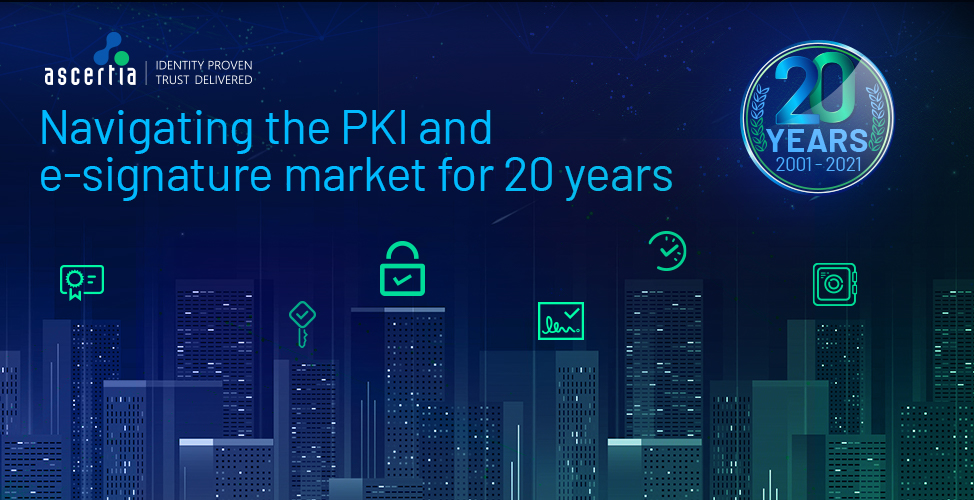 Evolution of the industry
While the industry has changed considerably during twenty years, our ethos has always remained the same – delivering digital trust assurance. In particular, digital trust for documents, data, people and devices, facilitated by cryptography-based solutions.
Our core focus has always been on Public Key Infrastructure (PKI), digital signatures and what they enable within business and society.
Interoperability with other vendors, technologies and applications has been paramount to our success over the last 20 years. Ascertia has played a leading role in numerous digital transformation projects and has helped enterprises, governments and Trust Service Providers (TSPs) deliver digital trust, via our PKI expertise and complementary solutions.
With the world's economic output reliant on remote working during the pandemic, PKI has risen in prominence once again as organisations have been tasked with addressing multiple business challenges such as:
Data integrity
Authenticity
Information protection


Growing with the market
Ascertia has expanded in a sustainable way and evolved as an organisation, driven by the needs of our customers and through the support of our global partner community.
We now count governments, banks, leading financial institutions, telcos and thousands of major corporations and SMEs around the world as customers. Our extensive partner network is proudly a who's who of leading PKI and digital signing specialists, Certificate Authorities (CAs) and TSPs.
Our vision for our best-in-class products has always been to deliver interoperable, standards-based technologies that enable customers to deliver digital trust, legal certainty and regulatory compliance with flexible solution deployment options.
This can be seen with our many long-term customer and partner relationships, as Maeson Maherry, LawTrust Chief Solutions Officer, shares:
"Ascertia's SigningHub has provided us with a platform that allows us to provide a high value, but easy to use, business solution, ensuring LAWtrust wins more business and maintains a distinct competitive advantage in a period of rapid change. Ascertia's passion for secure digital signatures has ensured that we have seen growth in the key government and banking sectors that we focus on."
We see our partners as an extension of our ecosystem. They understand our technology and have utilised our offerings to deliver complex solutions to their customers across the globe, taking advantage of our interoperability and standards-based approach to create solutions that both sit alongside, and power, their offerings.
We could not have reached this exciting milestone without our incredible customers and partners. It's clear that through collaboration and our interoperable technology, we really are stronger together.
From being the first company in the world to deliver a Common Criteria EN 419 241-2 certified qualified signature creation device (QSCD), to helping define the industry through our involvement in the Cloud Signature Consortium, our commitment to innovation and interoperability remains steadfast.

We'd also like to thank the excellent team at Ascertia, without whom none of this would be possible. Their commitment and dedication to delivering exceptional customer service and going the extra mile when needed has been a significant part of Ascertia's long-term success.
Two decades is a significant timeframe to consider cybersecurity and IT has changed phenomenally in that time. A lot has happened, both to us and to the increasingly digital world around us, but the next 20 years promise to be even more exciting.