Successful digital transformation in aviation relies on an easy-to-use auditable document signing and approval process in regulated industries. One that can demonstrate that everyone followed regulations and proper procedures at all stages across the regulated business areas.
At the same time, any solution to facilitate smooth digital workflows, approvals, and digital signing should not interfere with smooth business operations.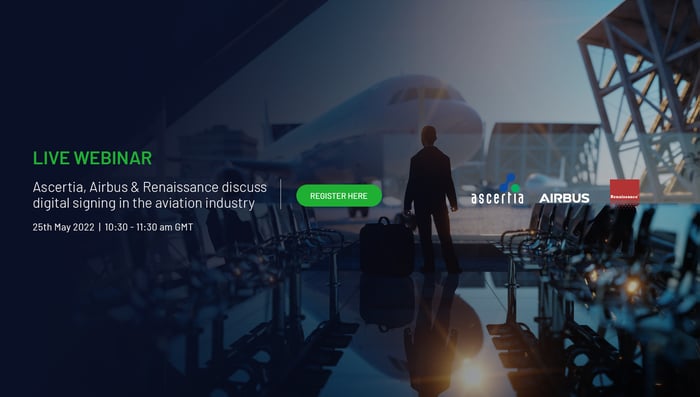 Ascertia's SigningHub delivers an easy-to-use digital signature and document approval system that meets the needs of highly regulated companies and other businesses with strict compliance requirements.
One such industry is aviation. Airbus recently selected Ascertia to deliver digital signing and document approval for its 130,000 staff working in their highly regulated and multi-national company. The project was implemented via an Ascertia Managed Service Provider (MSP), highlighting the opportunity for MSPs across the world to deliver similar solutions.
More details on the Airbus project and this unique digital transformation initiative in the aviation, travel and tourism industry are explained later in this blog.


Ascertia's SigningHub and its Role in Aviation Digital Transformation
Ascertia's SigningHub focuses on delivering a complete document approval system for organisations of all sizes. SigningHub contains everything needed to review and electronically sign documents quickly and securely.
At a high-level, Ascertia's SigningHub deliverers in three main areas:
Esignatures - legally binding e-signatures made easy.
Eseals - protection for corporate documents with automated signing processes.
eIDAS remote signing - eIDAS-compliant qualified signatures with cross-border legal recognition.
You can find comprehensive overviews of these three areas and more on the Ascertia SigningHub page.


Airbus selects Ascertia for digital signature initiative
Airbus is the world's largest aircraft manufacturer, and as such, it operates at the peak of one of the most regulated industries. Airline accidents are thankfully infrequent, but when they occur there are comprehensive reviews that try to determine the cause to prevent future accidents.
A detailed review of all documentation relating to any aircraft involved is part of these reviews. This documentation must be available, and inspectors and others must trust the history of all processes related to all aircraft detailed in the electronic paperwork. Electronic document workflows and digital signatures deliver this trust.
Airbus selected Ascertia's SigningHub via the Belgium based MSP Zeticon (part of the Cronos Group) to help design and deliver a digital signing and document approval system fit for the company's current needs but with the flexibility to change over time as required.
You can read more about the Airbus project on the Ascertia Blog.


Watch the Ascertia, Renaissance, and Airbus Webinar for insight into digital transformation in the aviation industry
Renaissance hosted a webinar with representatives from Ascertia and Airbus that covered the Ascertia and Airbus digital signature initiative. The webinar was a 45-minute live camera event that included an extensive overview of what Airbus set out to achieve and how Ascertia and Renaissance met its requirements.
Title: Ascertia, Airbus, Renaissance discusses Digital Signing in the Aviation Industry
Recorded on: 25th May 2022
Introduction and update on the Irish market from Renaissance
Ascertia presentation by Mike Hathaway, Chief Product Officer, Ascertia
Roundtable moderated by Adrian Walker at Ascertia
Panellists include Michael Conway (Renaissance) and trusted advisor Fatih Murat (Airbus)
Q&A from the floor
Closing message from Renaissance
Watch the webinar on Ascertia's YouTube or using the video below.