Businesses across the globe are embracing the digital transformation, streamlining processes like never before. If you've recently encountered terms like e-signature, eSignature, or electronic signature on bank forms or employment contracts, you might be witnessing this change firsthand.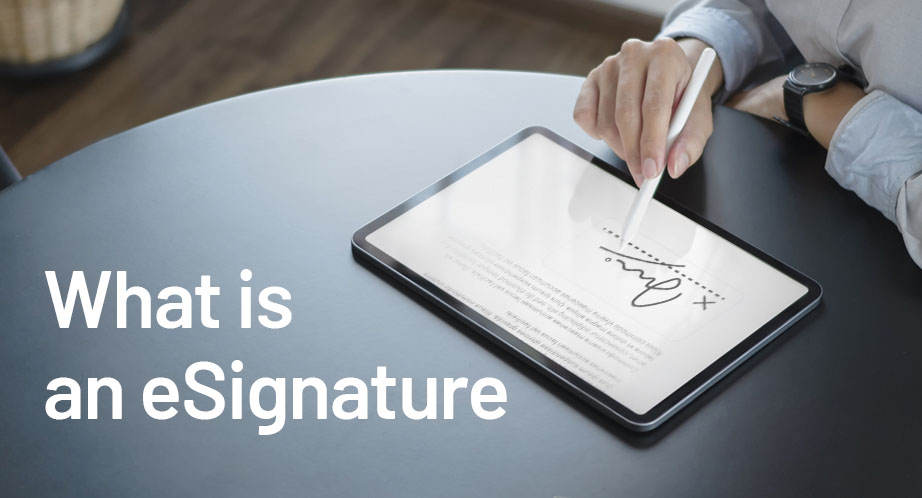 An eSignature is essentially a digital form of your traditional signature. It serves the same purpose: to indicate agreement with the contents of a document. But unlike a pen-and-paper signature, an eSignature is executed electronically, adding convenience without compromising on validity.
Globally recognised and legally binding, electronic signatures are rapidly becoming the norm in countless sectors. Legal firms, insurance companies, and real estate agencies are just a few examples where the digital leap to eSignatures has been significant. They are a key component in the movement towards a paperless, efficient, and environmentally responsible business model.
On the uptake in eSignature use, Michael Abraham and Abbie Purslow of the UK Government's HM Land Registry said:
"We are seeing more firms using electronic signing platforms and conveyancer-certified electronic signatures; the benefits of quicker circulation of documents, less reliance on the postal system and a reduction in administrative tasks seen as just some of the key benefits of electronic signing."
How do I create an eSignature?
Embracing the convenience of eSignatures starts with selecting a reliable platform, such as Ascertia's SigningHub, which streamlines the digital signing process. Here's how such a platform simplifies the workflow:
It enables users to create bespoke signing templates for different document types
It clearly designates signing areas, initials, and text entry fields for each participant
It automatically notifies all parties via email for signatures needed or confirmation of completed signatures
Utilising a sophisticated eSigning service like SigningHub translates to substantial savings on traditional paper-based processes and cutting down on print and courier expenses. Additionally, it's a step forward in reducing your company's carbon footprint—all while ensuring the security and legal validity of your documents remain intact.
Electronically signing a document with SigningHub is a streamlined process:
Register for an account with SigningHub, a service that excels in secure eSigning

Choose the document you wish to sign electronically

Specify the signing sequence if multiple signatories are involved

Distribute the document to other signers using the platform's secure sharing features
Following these straightforward steps can transform your document management, replacing vulnerable paper-based signatures with secure, legally recognised digital counterparts.
It's important to recognise the varying security levels among eSignature solutions. While basic eSignatures provide a level of authentication, advanced services like those offered by SigningHub use robust verification methods to heighten security. These may include biometric authentication, one-time passwords (OTP), and access to qualified electronic signatures (QES) that adhere to the stringent requirements of regulations such as eIDAS.
What is the difference between eSignatures and digital signatures?
While the terms "digital" and "electronic" signatures are often used interchangeably, there are critical distinctions between the two. A digital signature is indeed a type of electronic signature, but it encompasses additional security measures.
eSignatures, in their simplest form, are the electronic equivalent of a handwritten signature; they can be as basic as a typed name or an uploaded image of a signature. On the other hand, digital signatures involve a specific technology that encrypts documents and securely associates a signer's identity with the document. This technology is based on Public Key Infrastructure (PKI), which uses two keys (a private key for signing and a public key for validation) to ensure the security and integrity of the signed data.
The reliability of digital signatures lies in their legal enforceability. These signatures provide a tamper-evident seal and an audit trail that stands up to legal scrutiny. This is because digital signatures utilise digital certificates which are issued by trusted Certificate Authorities (CAs). These certificates validate the signer's identity, ensuring that the signature is authentic.
Among the hierarchy of digital signatures, the Qualified Electronic Signature (QES) stands at the pinnacle of security. QES is a specific type of digital signature that meets the highest standards set forth by regulations such as eIDAS in the European Union. To create a QES, the signer must use a digital certificate that is created by a Qualified Trust Service Provider (QTSP) and has been uniquely linked to and capable of identifying the signer.
Ascertia's products, such as SigningHub and ADSS Server, are designed to provide robust solutions for creating, managing, and verifying digital signatures. They offer a secure signing process that complies with international standards and regulations, ensuring the authenticity and integrity of digital transactions.
Ascertia's eSignature solutions
As part of our industry-leading suite of high-trust products and services, we have various electronic signing solutions – whether you need a signing solution, a means of integrating eSignatures with your core applications or connecting with a Remote Signing Service Provider (RSSP).
SigningHub by Ascertia allows users to review and electronically sign documents quickly, securely and easily. It can be deployed fully on-premise, or as a cloud service – with your own private provider or our own multi-tenanted service.
ADSS Signing Server was designed to address issues with cost, efficiency and security seen with traditional paper-based signatures.
ADSS Auto File Processor allows businesses to conveniently process large amounts of data and documents by bulk signing documents like PDF invoices.
Visit the SigningHub website to better understand how Ascertia can help your business, or alternatively get in touch with a member of our team to discuss your business's requirements.