We are pleased to announce that Ascertia SigningHub is now available on Zapier. Zapier enables powerful no code/low code-integration and workflow automation, connecting with over 5,000 apps to enable businesses to streamline processes and increase efficiency.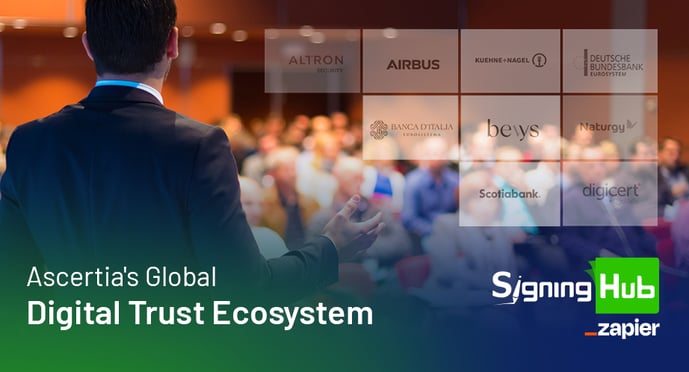 SigningHub Zapier integration
SigningHub pairing via Zapier is available for many popular cloud-based solutions and tools including Google Drive, Outlook, Office 365, Xero, QuickBooks and Slack.
Mike Hathaway, Chief Product Officer at Ascertia: "SigningHub was built to accelerate the signing process and improve workflow efficiencies. Through our Zapier offering we hope to provide even more ways for our customers to realise the benefits of digital signatures for their business."
Electronic signatures are used by countless industries and business departments including HR, accounting, procurement, legal, finance and marketing. SigningHub's bulk signing capabilities enable users to sign multiple documents securely and swiftly, while signing workflows accelerate the signing process.
SigningHub's Zapier integration is one of many, which already includes native integrations for Salesforce, Microsoft Word and SharePoint.


Ascertia Global Digital Trust Ecosystem arrives
We are equally excited to announce the Ascertia Global Digital Trust Ecosystem. It is a new online library of Ascertia's global digital trust service provider partners, the full range of eSignature platforms and regional managed services that we support with key business application integrations.
The Global Digital Trust Ecosystem has been designed to help you secure digital business, underpinned with essential digital trust, powered by Ascertia.
Our collaborative and flexible approach together with our proven technologies empower our global partners and their customers, delivering a seamless local experience and on‑the‑ground support.
The Global Digital Trust Ecosystem consists of three elements:
Business applications –

Es

ignature integrations with the world's leading business applications for CRM, HR and others which also allows custom integrations for APIs and SDKs
Esignature platforms – Ascertia's SigningHub platform available as a full product, cloud service or regional managed service from an Ascertia certified partner provider
Digital trust services – eIDAS compliant digital trust services, Qualified and AATL certificates, and Ascertia products that support user vetting, digital certificates, validation, timestamping, archiving and more


Mike Hathaway, Chief Product Officer at Ascertia: "Our global digital trust ecosystem is the next stage in our journey, placing digital trust front and centre. Our 100 strong and counting partner network, combined with our technologies continue to provide customers with the solutions they need to power secure, compliant digital services."
Learn more about our Digital Trust Ecosystem.