On 22nd October Ascertia announced the SigningHub 8.0 release. This release is now available on the Ascertia Community for download. Please request access from your account team, if you have not already registered.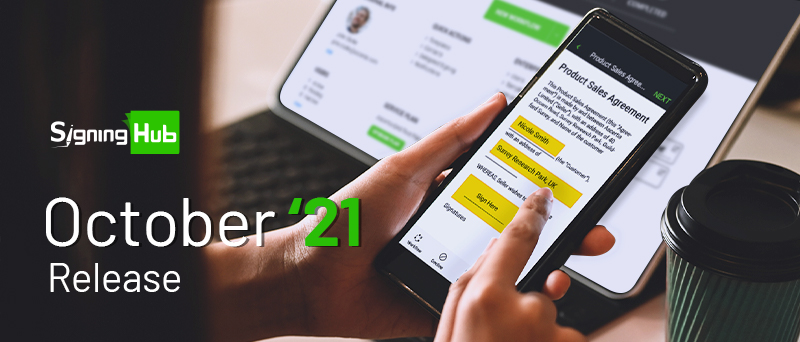 What is SigningHub?
SigningHub provides an intuitive web interface that makes it easy for anyone to electronically sign and workflow documents.
Documents can be shared, viewed, and signed on any device, anywhere, anytime in a way that suits any approval process. Over 25 languages are supported, and others can easily be added or customised.
SigningHub supports:
Basic eSignatures
Advanced eSignatures
EU Qualified Signatures
Corporate eSeals
Advanced eSeals
Qualified eSeals
SigningHub works with multiple Qualified TSPs especially those offering Cloud Signature Consortium (CSC) compliant remote digital signature services (RSSPs). SigningHub supports the latest CSC APIs offered by ADSS Server and other third-party products and services.
Ascertia has offered world-class PKI products for over 20 years. SigningHub brings together all this capability and knowledge to provide the most secure way to sign documents. SigningHub facilitates all types of electronic signatures but is focused on the high trust, top end of the market, and can use existing national and international PKI schemes, other high trust certificates including those trusted by Adobe Reader and Word for persistent document security.


SigningHub 8.0 release developments
SigningHub 8.0 is a major product release that contains many important features for all Ascertia customers and partners, which include:
Cloud Signature Consortium support
SigningHub now supports the Cloud Signature Consortium (CSC) v1.0.4.0 API protocol. This enables administrators to configure any Remote Signing Service Providers (RSSP) that is compliant with the 1.0.4.0 API for signing documents.


Signature and signature label updates
PAdES Part 2 PKCS#7-LT signatures have now been replaced with PAdES-B-LT ETSI compliant signatures. In addition, PAdES Part 4 labeling within SigningHub has now been updated to PAdES-B-LTA for adhering to the current ETSI standards.


Levels of assurance for digital signatures
The Document Owners can now mandate for the minimum Level of Assurance against the certificates used for digitally signing documents. Recipients will be able to sign the documents with only those certificates that comply with the Level of Assurance configured by the Document Owner.

Within the Document Viewer, the "Electronic Signature" and "Digital Signature" signature field types have been merged into a single field, called the "Signature". The Level of Assurance can be specified against the signature field. Supported Levels of Assurance include: Electronic Signature, Electronic Seal (eSeal), Advanced Electronic Seal (AdESeal), Qualified Electronic Seal (QESeal), Advanced Electronic Signature (AES), High Trust Advanced Signature (AATL), Qualified Electronic Signature (QES).

For customers operating SigningHub internally or in territories outside of the EU, administrators can define their own friendly names and abbreviations for the Levels of Assurance, which will replace the default names and abbreviations.


Microsoft Azure Active Directory & Office 365 on mobile apps
Enterprise administrators can now configure Microsoft Azure Active Directory and Office 365 authentications while signing a document on the mobile web and native apps (Android and iOS).


Connector
SigningHub Administrators can now create a connector for any third-party authentication provider that uses OAuth2.0 authentication protocol.


ECC & ECDSA signature algorithm
Documents in SigningHub can now be signed with ECDSA based certificates.


Performance improvements
The SigningHub 8.0 release brings several performance improvements in different areas of SigningHub including Document Viewer, Enterprise Branding, management of SigningHub Contacts and Groups, Document Listing, document management, Enterprise user management, cache management, reports, third-party integrations, and signature fields.
A full list of features can be found here.
If you don't have access to the Ascertia Community, you can request this from your Account Team. If you need upgrade assistance or a system health check, talk to your Account Team about Premier Success Services.
Further announcements about the upcoming releases of ADSS Server and ADSS Web RA Server will be coming soon.