We have become the first company in the world to pass the Common Criteria EAL4+ evaluation process against the standard EN 419 241-2 for our ADSS SAM hardware appliance, a remote Qualified Signature Creation Device (QSCD). This provides the highest level of confidence that users have sole control over their signing keys held on central servers or in the cloud.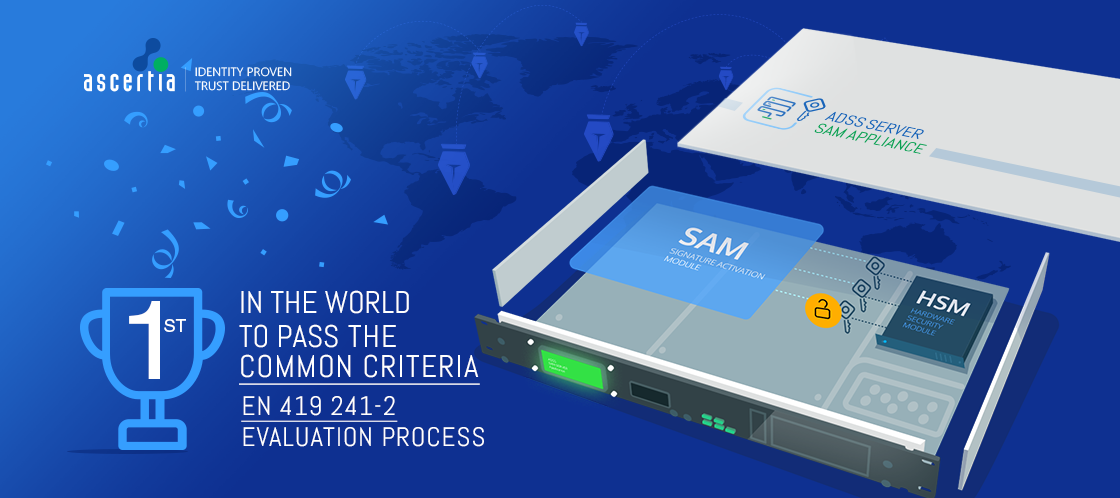 This achievement enables us to meet the eIDAS requirements for remote Qualified Signatures – the highest trust-level for legal acceptance of signatures in Europe. Under the eIDAS regulation a remote Qualified Signature requires a Qualified Trust Service Provider to manage user keys securely using trusted remote Qualified Signature Creation Devices (QSCD).
"To be the first in the world to pass the stringent Common Criteria evaluation under this new eIDAS remote signing standard is a proud moment for Ascertia. Our Signature Activation Model (SAM) hardware appliance provides a robust, tamper-protected environment for the centralised management of user signing keys, which remain under their sole control. Remote signing, also known as cloud signing, has many benefits over traditional methods of e-signing including better security, performance, lower-costs and the ability to sign from any device. We are seeing a major industry shift towards remote signing and we have proved yet again that we are the global leaders in the high-trust digital signature space," said Liaquat Khan, Director at Ascertia.
Our ADSS Server SAM Appliance Common Criteria EAL4+ evaluation against EN 419 241-2 was conducted under the IT Security Certification Body of Italy (known as OCSI, Organismo di Certificazione della Sicurezza Informatica). The Ascertia SAM appliance includes an embedded Hardware Security Model (HSM) for cryptographic processing and key management, which is independently certified under Common Criteria EAL4+ Protection Profile EN 419 221-5.
"This is a great achievement for Ascertia. We have always focused on meeting the highest standards and compliance so that our customers can trust in our solutions to provide high-trust services without compromising on ease of use," said Rod Crook, Director at Ascertia.
The ADSS Server SAM appliance is available as part of our ADSS Signing Server and our SigningHub solution, a complete document approval business application. Interested parties should contact their local sales representatives for ordering and delivery details.