Ascertia is delighted to announce the ADSS Web RA Server 2.8 release. This new release is now available on the Ascertia Community for download. Please request access from your account team if you have not registered already.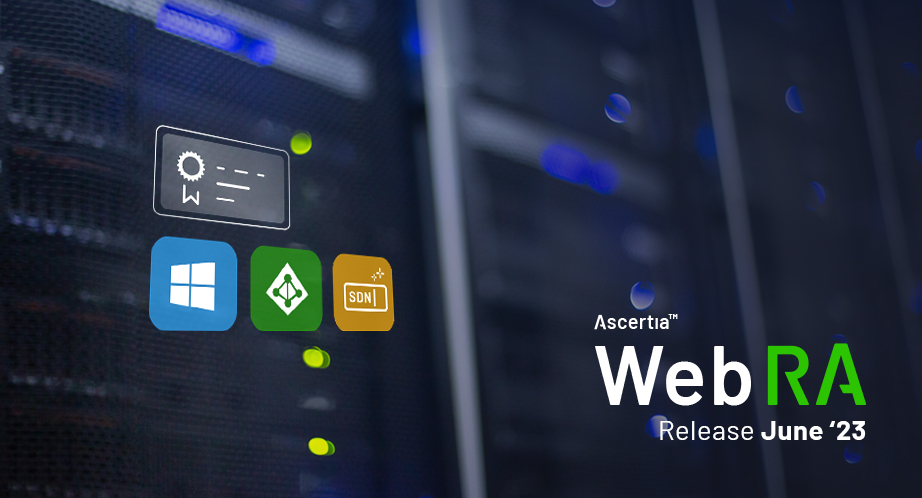 ADSS Web RA Server 2.8 developments
ADSS Web RA Server 2.8 is a major release full of new and important features for Ascertia's customers and partners. These updates include:
Windows Native Certificate Enrolment
ADSS Web RA Server 2.8 adds support for Windows Native Certificate Enrolment and exposes two new enrolment interfaces: Certificate Enrolment Policy (CEP) and Certificate Enrolment Service (CES). This enables Microsoft and CEP/CES-aware clients to request certificates from the server, either automatically via Microsoft Group Policy, or manually using the native certificate client built into the Microsoft Windows and Server Operating system.
Support for Azure Active Directory Authentication
ADSS Web RA Server 2.8 means enterprise users can now utilise Microsoft Azure Active Directory to authenticate to the ADSS Web RA Server Enterprise user portal. It can be used to perform additional authentication when requesting the renewal or revocation of certificates.
Auto-fill Subject Distinguished Name
With 2.8, the values of a user's Subject Distinguished Name (SDN) can now be auto-filled when requesting a certificate via ADSS Web RA Server. This helps to reduce the number of key strokes and repetition that is sometimes encountered when filling in forms. Auto-fill is fully configurable and optional in the server's deployment requirements.
CMP and EST Device CA expiry notification and suspension
ADSS Web RA Server now supports sending expiry notifications for enterprise Device CA certificates that have been registered for CMP and EST device enrolment. Operators can also active or suspend these certificates, easing lifecycle management operations for device enrolment use cases.
Device enrolment protocols multi-tenancy support
ADSS Web RA Server 2.8 supports multi-tenancy for SCEP, EST, ACME and CMP device enrolment protocols. Enterprise Administrators can now manage device enrolment secrets and Device CA Certificates from within their enterprise.
A full list of features can be found here.
If you don't have access to the Ascertia Community, you can request this from your Account Team. If you need to upgrade assistance or carry out a system health check, talk to your Account Team about Premier Success Services. Contact us today for more information.