Ascertia is delighted to announce the ADSS Web RA Server 2.7 release. This new release is now available on the Ascertia Community for download. Please request access from your account team if you have not registered already.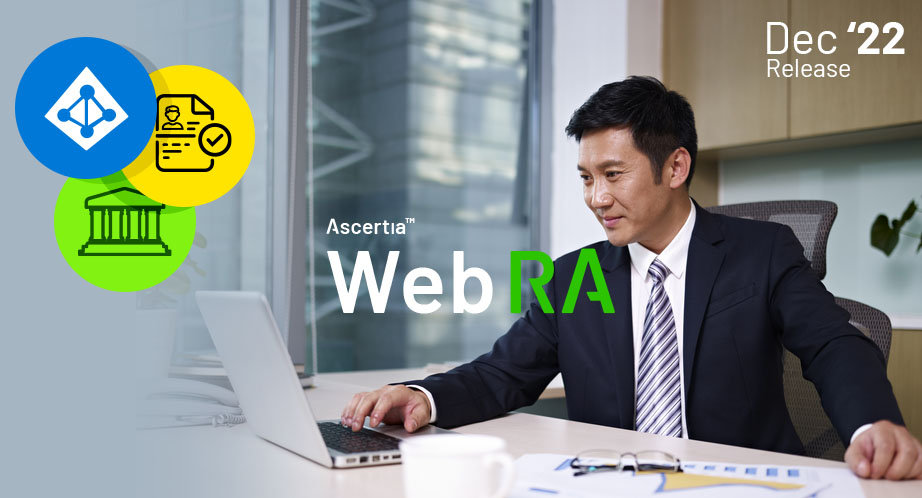 ADSS Web RA Server 2.7 developments
ADSS Web RA Server 2.7 is a significant release full of new and important features for Ascertia's customers and partners. These updates include:
Active directory authentication - (WRA-1458)
ADSS Web RA Server now supports active directory authentication for the end user certificate enrolment portal. Customers with Microsoft Active Directory can now leverage this as the authentication mechanism to authenticate user access to Web RA to request certificates as well as using Active Directory authentication to authorise certificate revocation requests.
Enrolment over Secure Transport RFC 7030 - (WRA-9256)
ADSS Web RA Server has been enhanced to support Enrolment over Secure Transport (RFC 7030), a REST interface used to generate, renew/rekey and revoke certificates. Enrolment over Secure Transport was designed by Cisco as the replacement for SCEP to enable device enrolment for ECC Certificates.
Enterprise management APIs - (WRA-10162)
Enterprise management APIs have now been added to ADSS Web RA Server, this enables programmatic configuration of Administrator Authentication, Enterprise Management, Virtual ID and Desktop Signing user registration, a critical factor for any organisation looking to call ADSS Web RA Server from an existing business application.
ADSS Web RA Server logging changes (WRA-8213)
ADSS Web RA Servers Admin logging interface now displays the pre-state and post-state for changes made within the configuration of the application. This is important for any customer who needs to demonstrate to an auditor any changes made to the configuration of the server.
A full list of features can be found here.
If you don't have access to the Ascertia Community, you can request this from your Account Team. If you need to upgrade assistance or carry out a system health check, talk to your Account Team about Premier Success Services. Contact us today for more information.