Ascertia is delighted to announce the ADSS Web RA Server 2.5 release. This release is now available on the Ascertia Community for download. Please request access from your account team, if you have not already registered.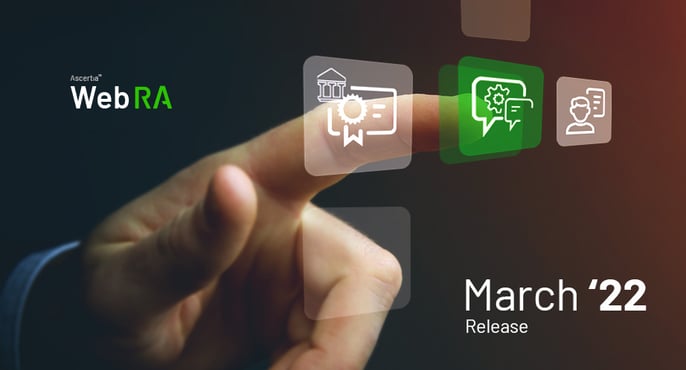 ADSS Web RA Server 2.5 release developments
ADSS Web RA Server 2.5 contains many important new features for all Ascertia customers and partners, including:


Enterprise certificate inventory management
ADSS Web RA Server now supports enterprise licensing inventory management, enterprises can be assigned license limits for certificate types and lifetimes for the allocation of licenses. Enterprise owners now have a new dashboard to track their certificate consumption. This enables service providers operating ADSS Web RA Server to retain better control over certificate limits for Enterprises they are providing services to.


Automatic certificate de-provisioning
ADSS Web RA Server will now automatically de-provision revoked certificates from SigningHub and Virtual CSP for Desktop Signing. It helps to ensure users only sign with current valid certificates.


Internationalisation configurations
ADSS Web RA Server now supports configurable language and default language options from Configuration Default Settings for the languages supported within the product today.
Performance enhancements include automated certificate de-provisioning and the removal of the certificate drop-down in order to help improve user experience.
A full list of ADSS Server Web RA 2.5 release features can be found here.
If you don't have access to the Ascertia Community, you can request this from your Account Team. If you need to upgrade assistance or carry out a system health check, talk to your Account Team about Premier Success Services.