Ascertia is delighted to announce the ADSS Web RA Server 2.4 release. This release is now available on the Ascertia Community for download. Please request access from your account team, if you have not already registered.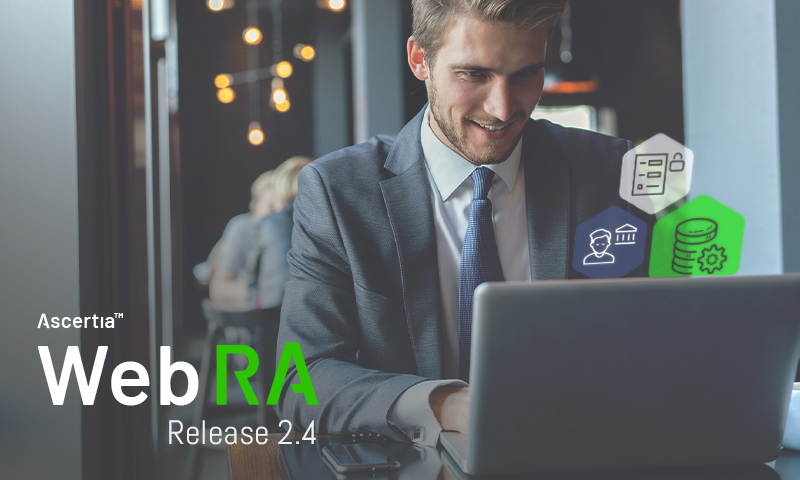 What is ADSS Web RA Server?
The ADSS Web RA Server supports enrolment and the process of vetting certificate subscribers. ADSS Web RA Server is an advanced registration authority application that harnesses the power of ADSS CA Server by directly issuing and managing the lifecycle of certificates. Integration of an ADSS Web RA Server provides a suitable means of delivery to the requesting end-entities.


How ADSS Web RA Server 2.4 caters to administrators and end-users
ADSS Web RA Server 2.4 allows administrators to control how people, devices, and things interact with trust infrastructures. Web RA is purpose-built to facilitate Trust Service Providers(TSPs) and Enterprises, who in turn can now look to a single platform that caters to all certificate management needs. Developers can also easily integrate programmatically via the ADSS Web RA Server Rest API, enabling business applications to provide certificate lifecycle management.


ADSS Web RA Server 2.4 release developments
Web RA Server 2.4 product release has many new features and developments including:
Enterprise roles
ADSS Web RA now supports role-based access control for Enterprise users. Enterprise Administrators can create different roles in an enterprise to control various types of users.


Automated data archival
The update supports the ability to provide automated archival for Expired Certificates, Administrator Logs, User Activity Logs, and User Notifications. Administrators can set the schedule the moment an export task is carried out for storage for long-term archival. Web RA also supports the import of archived data for audit review.


Certificate expiry notifications
The option to send certificate expiry notifications to operators and users is now possible.


Encryption of vetting form data
Information captured by Web RA in vetting forms is now encrypted to safeguard information provided during enrolment.
A full list of ADSS Web RA Server release features can be found here.
If you don't have access to the Ascertia Community, you can request this from your account team. If you need upgrade assistance or a system health check, talk to your account team about Premier Success Services.